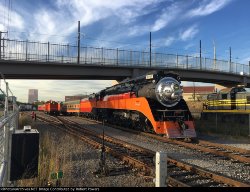 Welcome to the RRPictureArchives.NET contributor site of Robert Powers.

I was a train fanatic when I was in middle school/early high school, the late 1980s. Eventually I got a cruddy 110mm camera and started snapping photos. A lot of them were really bad... but a handful came out alright. I've been digging them up a few at a time and posting them here. Somewhere around 1988 I got a point-and-shoot 35mm so the quality takes a tiny step up.

110 film is super cheap and super bad, so there's not much I can do about the grainy appearance for now.

I grew up in Shreveport, Louisiana, so most of my 80s stuff is there: Southern Pacific, Union Pacific/MoPac, KCS, and MidSouth Rail.

Eventually I'll get to some stuff from St. Louis ('92-'97) and Milwauke (2000-2007).


You may browse my collection of pictures via the menu located on the left hand side of the page. I hope you enjoy the collection and thanks for stopping by!
Note: This site is best viewed in Internet Explorer 6.0 or above.
Select one of the links from the menu on the left to begin browsing the collection.